Heavy duty – Industrial – Commercial
Fully sealed all weather keypads

Specially designed for gate operators

Overhead doors & electric door locking devices
Carefree Lightning & Surge Suppression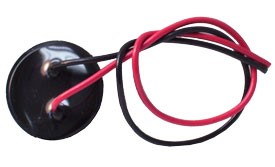 Connect to any Carefree Keypad
Instantaneous response time
Dissipates 600 Watts @ 39 volts
15kV 60 Amp Surge Suppression

The Model 306, Lightning & Surge Suppression add-on provides an extra level of protection, in addition to the robust on-board protection, against surges, spikes and lightning that may infect the signal or power wires.
Please make sure your keypad mount and equipment are properly grounded.
A proper ground is necessary to provide a safe path for the
over-current/over-voltage to travel to.
Carefree Digital Access Keypads
CAREFREE SECURITY has been manufacturing fully sealed outdoor ALL WEATHER digital keypads for over 40 years. Our customers are assured of a trouble free keypad that is easy to install, user friendly and easy to operate.
CAREFREE SECURITY keypads are designed as a stand-alone programmable digital keypad entry with self-contained electronics. All of our keypads are designed for heavy-duty commercial and industrial use. This keypad is ideal for adverse environment conditions due to the electronic components being encapsulated in epoxy, making the keypad impervious to water and moisture. Coding is field programmable and can be changed in seconds. A user can pass through an entry point secured by the keypad by entering a correct code into the keypad. If an incorrect code is entered the keypad will deny access. The built in relay can switch power to an electric door lock, gate, overhead door operator and much more. The keypad metal housing can be mounted to a pedestal or bolted directly to a wall. The keypad has a high-grade anodized aluminum faceplate, which protects it against any corrosion, it is also weather proof and vandal resistant. All of our keypads will compliment any opening and aims to provide total user satisfaction.
Request More Information About These Products